MINIØYA
In June 2012 Panta Rei Danseteater was involved in something completely new! On behalf of the children's cultural festival and Norsk Scnekunstbruk PRD choreographed a dance to Samsaya's song Good With The Bad, which was performed as a flashmob by an entire audience. This cooperation continued in 2013.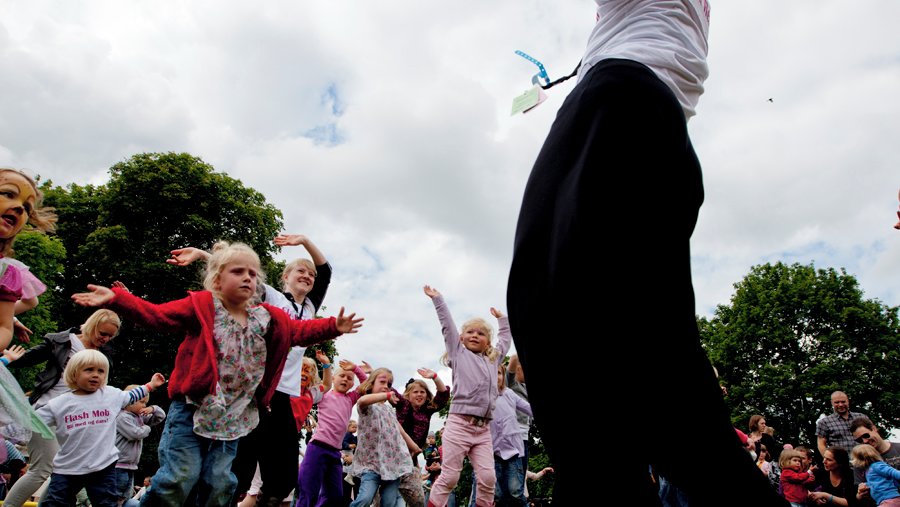 During the Miniøya children's art festival in June 2012, Panta Rei Danseteater choreographed a flashmob dance to Samsaya's song The Good With The Bad. During the festival, the company led dance workshops for children and performed WeFiction & Private Rite. On the festival's final day, the company performed on the main stage along with Samsaya, taught the audience the flashmob dance and had all of Tøyenparken dancing.
The flashmob became very popular and PRD was invited to lead it again during the children's art festival "Verdens Kuuleste Dag" at Akershus Fortress in June, at the Oslo Culture Night in September, and for Amnesty and TV-Aksjonen in September / October, (in the process helping to raise money for good causes). A total of nearly 5,000 people danced the flashmob in 2012.
Cooperation with the Miniøya festival continued in 2013. The festival is a great partner and provides PRD with the opportunity to conduct further research into how to successfully involve and engage diverse audiences.
Click here to read more about the" festival.":https://minioya.no